​Last push to reach crowdfunder's £10k target #NeverMoreNeeded
TV stars have got behind a crowdfunding campaign to save a Scottish wildlife charity.
They are encouraging people to help the Scottish Seabird Centre buy buying limited edition puffin prints.
Lorraine Kelly, Chris Packham, Nick Baker, Mark Carwardine and Gordon Buchanan, as well as award-winning blogger, Kate on Conservation, are all asking people to buy the artworks, which were created by Creature Candy.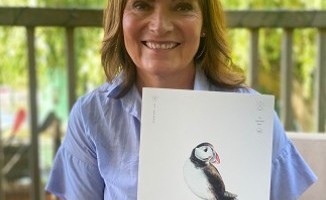 The award winning visitor attraction, in North Berwick, has been hit hard by Covid closures.
In order to avoid permanent closure, the Scottish Seabird Centre has set an overall fundraising target of £500,000.
In the 20 years that the conservation charity has been operating, it has used its resources to educate people about the Scottish marine environment, and to support conservation projects.
This is the final week of the Creature Candy prints fundraising campaign (it ends on 6 July), but the overall Seabird Centre fundraising campaign lasts till the end of July.
Find out more about Creature Candy and the prints here and donate to the centre's crowdfunder here.
Lizzie Barker, founder and director of Creature Candy, said: "The Scottish Seabird Centre provides a wonderful environment for the public to enjoy and learn about seabirds and other marine animals. It also plays an important role in the conservation and protection of some of the most fragile habitats on the planet. Its survival is imperative and we sincerely hope we can help to make this happen."