Barry Church Woods lost his sister Julie to cancer in 2010, but determined to keep on laughing, he set up the Big C and has raised £50,000 so far
Until 2010, I knew three people who had lost their lives to cancer. They were all octogenarians, and if I'm totally honest, I viewed it as part of the circle of life. You fully expect your grandparents to die before you, it's how it's meant to be. But, then, in 2010 I also lost my sister Julie.
Julie had just turned 40 and was finally settling down with the love of her life. She was the happiest I'd ever known her.
That February she'd been diagnosed with skin cancer. Four months later, it had spread to her lymph nodes, metastasised and taken her organs. She died on 15 June.
I'm not going to go into the trauma surrounding these events. Julie was very much loved and her death caused immeasurable grief. It also made me more than aware that the old adage is true: laughter is the best medicine.
Throughout that whole period of her illness, Julie laughed a lot. As a family gathered around her bed, we did too, there was nothing else to do. Gallows humour exists for a reason. It's a coping mechanism.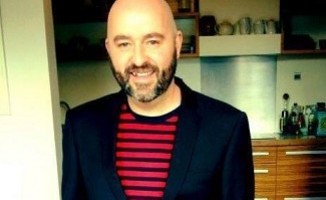 But here's the thing: nobody prepares to die at 40, and it comes as a massive slap in the face when it happens.
Cancer charities are essential in offering support systems to patients and those around them affected by cancer. Being sick is a massive emotional, physical and financial burden.
That's why later that year, I set up The Big C with my friend Mhari Hetherington, who lost both her parents to Cancer. We knew the Edinburgh Fringe was a perfect opportunity to stage events to raise money for cancer charities. Everyone has a Macmillan story, so it was an organisation close to both our hearts. It became the first beneficiary of what we thought would be a small-scale gig in pub backroom with a few local acts.
But here's the thing: nobody prepares to die at 40, and it comes as a massive slap in the face when it happens.
But did I mention that everyone has a Macmillan story?
It came as a massive surprise that when I put feelers out for a host, the first person to respond was Ed Byrne. When we were shopping around for venues, the EICC stepped up. Those two things made the Big Comedy Gala in aid of Macmillan an absolute cinch to programme. Everyone wanted on that stage. And everyone wanted a ticket. It was a complete sell out.
Our first year had Fred Macaulay, Sarah Millican, Frisky and Mannish and a whole bunch of others that were at the time storming the Fringe. When Rich Fulcher of Mighty Boosh absolutely bombed and got so flustered he forgot to introduce Roy Walker, that one heart-stopping moment created an incredible scene. Think about a 72-year old national treasure (yes, I said that), casually strolling onto stage to rapturous applause and delivering a killer seven-minute set. He enjoyed it so much that he offered to host the following year.
Now, it's doing so well that this year we've added an additional show, The Big Cabaret Gala. It is tough though, the Fringe is a massive market place. In 2013, we were hit-listed in every national publication and had a line up of sell out acts but there were still some tickets left on the night.
But it's worth the work and the stress though. So far, over three shows, we've raised over £50k. That's enough to fund a Macmillan Information Centre for 8 months. This year, we're hoping to make it a year.
The Big C Big Comedy and Big Cabaret Galas in aid of Macmillan Cancer Support will both be staged on Friday 28th August at the EICC. Tickets can be bought at venue150.com