Edel Harris moved south just weeks before Covid-19 struck and reflects on the difference between leading a social care body in England and Scotland. #NeverMoreNeeded
Having started a new job in England only eight weeks before lockdown, I was still getting used to operating in a new country when Covid-19 struck, having spent the previous 20+ years working in the public and third sectors in Scotland.
Mencap operates in Wales, Northern Ireland and England providing personal services to over 5,000 people in addition to supporting the 1.5 million people with a learning disability and their families in the UK.
I had enjoyed a two-day trip to Wales in February and had also spent some time in Northern Ireland before travel was halted by coronavirus. I found that my experience of working in one of the devolved nations of the UK held me in good stead when meeting my Welsh and Irish colleagues and stakeholders, as they were encouraged by the fact that, with this experience, I wouldn't bring a English/London centric approach to my work.
What the response to the coronavirus crisis has exposed, however, is how very different life is for third sector organisations working in different parts of the UK; especially charities like Mencap that deliver social care services.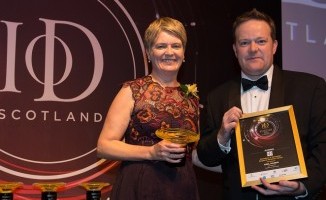 There are some common experiences of course, including the very real impact of an estimated 40% drop in income from fundraising in addition to the requirement for the third sector to respond in an agile way to a growing need, at a time when so much is restrained.
Recent surveys have shown that approximately 70% of charities in the UK expect to see a worse financial position as a result of Covid-19 and yet poor mental health and loneliness are expected to significantly increase at a time when many people will experience further poverty.
These facts are the same for all four devolved nations and yet the governmental responses have often differed.
The UK Government responded in April by making significant funds available for smaller charities and organisations that were directly involved in supporting the response to the pandemic at a community level. In the context of social care, organisations like Mencap were bombarded with guidance and submerged in crisis management trying to access PPE and testing whilst dealing with emotionally draining circumstances.
"Any suggestion that England could learn from Scotland was met with stony silence but this didn't stop me sharing the Scottish Government/Cosla paper on the national Living Wage agreement with the care minister"
What I have noticed during this time is that compared to my experience of working in Scotland the third sector doesn't have quite the same profile in England. That doesn't mean that certain government ministers and senior civil servants are not aware of the vital support we have been providing during this most difficult of times but rather that there is little evidence of the important role of the sector as a strategic, critical part of the national response.
The larger charities, in particular social care providers, are not often viewed as a contributor to the economy but rather as a burden or a drain on public finances – this is a narrative that I have been trying to change for some time. So when our UK ministers were propping up industries like aviation and hospitality there was no acknowledgement of the critical state of social care that existed prior to the outbreak of coronavirus.
For example, in conversations with UK ministers I was told that they had no leverage in awarding a pay increase to the social care workforce despite this being something that happens in Scotland – ensuring that all those working in adult social care receive as a minimum the real living wage for all hours worked. Any suggestion that England could learn from Scotland was met with stony silence but this didn't stop me sharing the Scottish Government/Cosla paper on the national Living Wage agreement with the care minister.
The decision taken early on in the crisis to pay 80% of salaries up to a maximum limit really helped Mencap and other charities like ours, especially as in our case we had to furlough over 500 colleagues, most of whom would have been facing redundancy if this scheme had not been available. Nobody is yet clear on the long-term economic impact of that decision but I do wonder if this option had been devolved to Scotland whether there would have been the same level of confidence to take such a bold decision.
I have been encouraged by the ease at which I have been incorporated into important conversations about everything from clinical guidance and its impact on people with a disability to wider post-Covid social care reform. I had imagined that it would take me several years to build up the network and reputation I had enjoyed in Scotland but the pandemic threw me in at the deep end. I found that my experience of leading transformational change in the social care sector in Scotland, coupled with the Mencap chief executive job title, opened doors that in other circumstances may have been closed to me at this early stage in a new role.
"The Treasury needs to recognise our worth in economic terms and make a commitment to really invest in our sector from an economic standpoint"
The different rules, guidance and slogans in the four countries have caused huge amounts of confusion amongst people with a learning disability and Mencap has found it time consuming and complicated to have different versions of guidance and regulation around social distancing, testing, PPE requirements etc.
As we emerge (hopefully) from the exhausting and emotional rollercoaster that we have all been on over the last few months I do hope that society will continue to remember why we felt compelled to stand on our doorsteps and clap every Thursday evening. I also hope that a spotlight continues to be shone on the vital work the third sector does in communities across the UK. The Treasury needs to recognise our worth in economic terms and make a commitment to really invest in our sector from an economic standpoint.
Where matters such as health, education and social care are devolved we should take this opportunity to remind our politicians that when it comes to the Scottish election in 2021 and the next UK general election, people will cast their vote whilst thinking about what sort of society they want to live in. They will remember who took a stance on social justice; addressing inequality and investing in the wellbeing of communities during the pandemic. Many voters will be expecting the social care reform that we have all been promised for so long and will be willing to pay higher tax if it results in a social care system that we can all be proud of.
If we want the third sector to not only survive but to thrive, we must appreciate its worth as a provider of vital services; as an agile responder to individual and community needs; as an employer; as a campaigner for social good and as a significant contributor to the economy.
So, my message to the public is, whether you live and work in Scotland, Wales, Northern Ireland or England please celebrate the vibrant, resilient charities and social enterprises that were there for you and your neighbours during the coronavirus crisis. Continue to help us with fundraising, keep volunteering, spend your money in our charity shops. And when you next cast your vote maybe enquire about the candidates' track-record in their support of the third sector…it may surprise you!
Edel Harris is chief executive of Mencap, and previously Cornerstone