​Robert Cawston discusses the new method of making contactless donations at the National Museum of Scotland in Edinburgh
This summer visitors to the National Museum of Scotland in Edinburgh can test out a new way to make a donation using contactless payments.
At the end of our free exhibition, The Tomb: Ancient Egyptian Burial, visitors can tap their contactless debit or credit card on a payment terminal to donate £3 to support the ongoing work of National Museums Scotland. Once a donation is made, visitors see a thank you message displayed on a big screen before the exhibition's curators reveal their favourite Egyptian objects from The Tomb.
Over the last few years, contactless has seen huge growth in usage and is becoming accepted as a way to conduct small, everyday transactions. Two in ten card payments in the UK are now made via contactless and the last year has seen a 21% rise in the number of contactless cards in circulation (both debit and credit cards) and a 165% increase in total spend.
A number of charities are experimenting with contactless payments and, in theory, the tech makes perfect sense for facilitating the types of low value, high-frequency transactions traditionally sought via donation buckets or boxes. In general people are carrying a lot less loose change around and are expecting transactions to be as quick and simple as possible.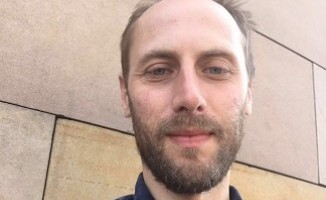 To build our contactless donations kiosk we teamed up with London-based agency, Wiedemann Lampe. Rather than a simple "tap and beep", we wanted to provide visitors with an engaging experience in a space that was already very visual and interactive. The final product had to do the following four things:
Attract attention  – a stand-alone box might be lost in the busy museum space and we instinctively felt something visual was needed to draw visitors in
Be as frictionless as possible  –  we wanted to make donating as easy as dropping a coin in a bucket and keep the "one-tap-and-you're-done" philosophy that makes contactless so great to begin with. This meant discarding any thoughts of capturing visitor data and slowing up the process.
Create a natural ask   – placing the terminal outside the free exhibition on ancient Egypt provided a natural moment in the visitor experience to ask for donations
Provide an experience – our aim was to create the digital equivalent of a simple coin spinner, where your donation is rewarded with a short but satisfying experience, and one that you will want to repeat.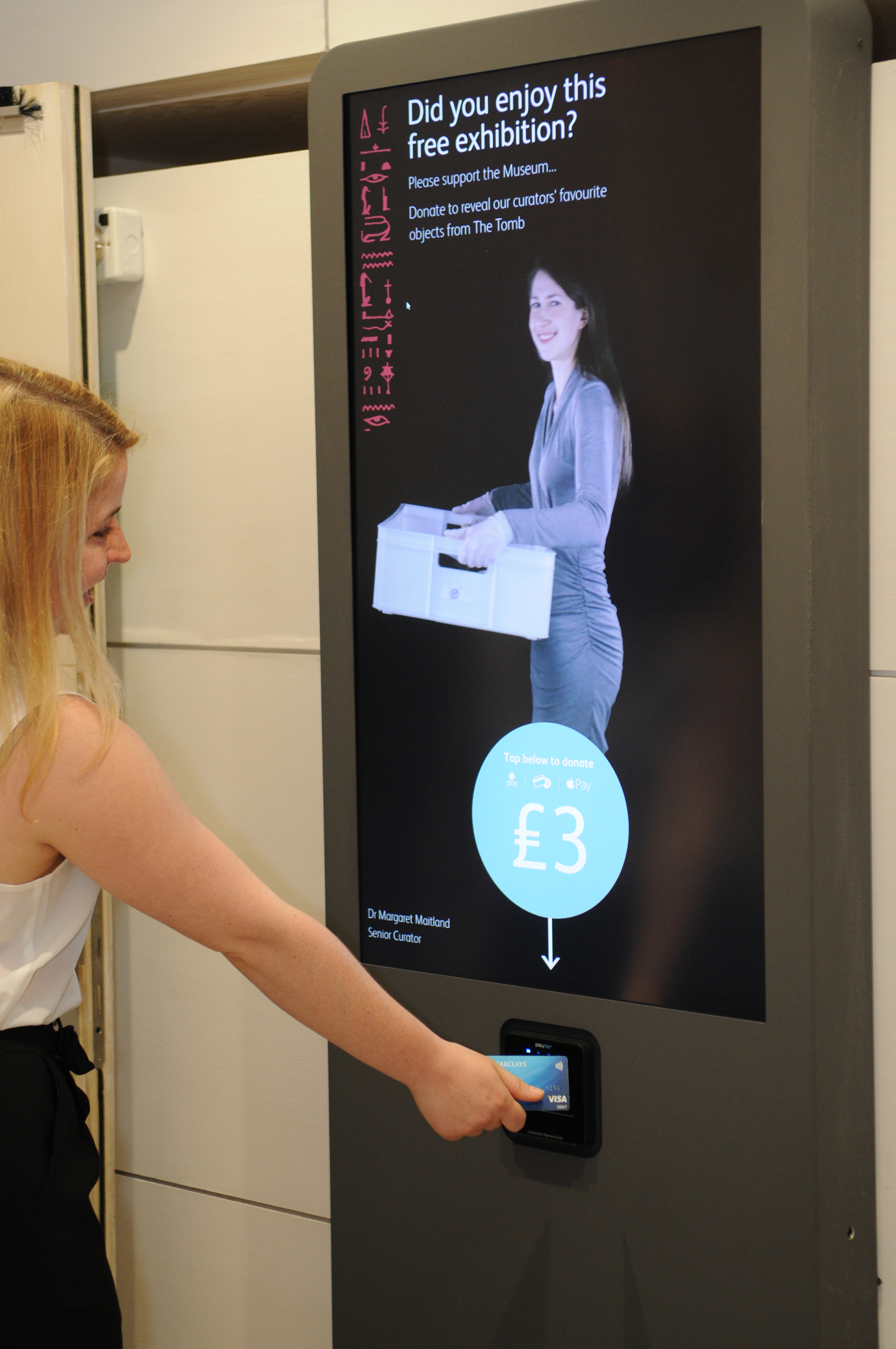 The set up uses contactless terminals supplied by Payter, donations are set to a fixed amount (we chose £3), and payment can be made via a contactless credit or debit card or by holding your phone up to the terminal with Apple Pay or Android Pay enabled. The terminals can be battery or mains operated or run and payments are transferred over a multi-network 2G/3G connection.
To run the system behind-the-scenes, Wiedemann Lampe built us a really neat little self-contained content management system (CMS) that talks to the Payter terminal and changes the video display when a donation is made.
It's still early days in this first trial but we've had some really great feedback on the kiosk. Donations are ticking over at one to eight per day, which is probably equivalent to the coin-drop donation box also positioned at the exhibition exit. We don't think the contactless terminal is competing too much with this coin box but is instead attracting additional donations.
We're hoping to experiment a little with different donation amounts and to re-position the kiosk to help raise funds as part of our campaign to save the Galloway Hoard. With Wiedemann Lampe we're also thinking about ways to share our set-up with other cultural organisations. Do get in touch if you're thinking about creating your own contactless payment experience.
Robert Cawston is the head of digital media at National Museums Scotland