100 social entrepreneurs from 24 countries arrive in Glasgow to celebrate 20 years of changing the world
Around 100 social entrepreneurs from 24 countries are expected in Glasgow over the next few days to celebrate 20 years of the International Network of Street Papers (INSP).
Based in the Scotland's biggest city, the charity has helped more than 250,000 homeless and marginalised people to work their way out of poverty.
The UK's Big Issue magazine is hosting the celebration which coincides with INSP's annual conference and is among 47 publications represented at the event.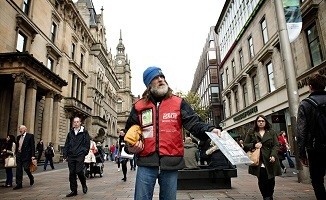 Held in a different city each year the conference has been the starting point for discussions between delegates on innovative ideas for solving social problems, such as the Homeless World Cup.
Jim Mullan, group chief executive of The Big Issue, said: "As one of the network's founding members, it is with great joy and no little pride that The Big Issue welcomes the growing international street paper family to this celebration of our work.
"The INSP conference is the key manifestation of this global social business movement in action."
Set to be among the highlights of the conference will be the inaugural INSPiring Social Innovation event. This public event on Thursday evening sees a group from INSP discuss and debate solutions to poverty and inequality with members of Scotland's social enterprise, business, government and third sector communities.
Guest speakers at the evening event include head of Oxfam Scotland, Jamie Livingstone; Susan Aktemel, director of Homes for Good and founder of Impact Arts; Lauren Currie, founder of design and social innovation agency Snook; John Bird, founder of The Big Issue UK; and Steven Persson, INSP board director and chief executive of The Big Issue Australia.
Maree Aldam, INSP Chief Executive, added: "It's great to welcome our network back to Glasgow for this very special INSP conference.
"For 20 years, our network has been innovating and finding creative, enterprising solutions to homelessness and poverty. I'm looking forward to seeing what comes out of this week and hearing about how our street papers take ideas and actions back home to help people change their lives."