Find out what makes Caroline McKenna of Dundee International Women's Centre and Social Good HQ tick
What makes a good day at work?
Making progress against my to do list. By day I run the Dundee International Women's Centre and by night I run Social Good HQ so I have many balls to juggle. Also making sure the staff are happy and clear on their priorities.
How many hours do you normally work in a week?
Too many! I best not say as my husband will be proved right! At least 50.
What do you procrastinate over?
Anything that involves detail - I don't do detail very well. I am a big picture thinker and full of ideas much to the dismay of the team!
What turns you into the office Victor Meldrew?
No sugar for my tea! People who don't treat others with respect.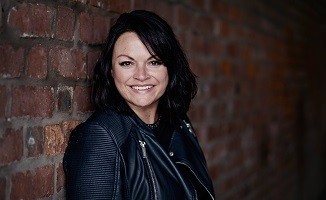 Is the third sector a calling or an accident?
It's an accident although I have been involved with charities from a young age, I came to work in this sector as a consultant initially and said I would be done in six months and that was three years ago!
What happens during your perfect weekend?
I spend time on the beach with my girls, husband and dog (I have two daughters, 17 and six) plus I love catching up with friends and a prosecco or two!
What's your favourite film?
My favourite film of all time is A Few Good Men starring Tom Cruise and Jack Nicholson, I just love that final courtroom scene.
Would we all be better off if charities did more in our society?
I think there are charities that provide reactional support like meals or blankets – these charities are an important part but I also think we need more charities that look at the root cause of societal problems such as homelessness, drug addiction etc. Charities are such an important part of our lives now and I believe passionately that they are fundamental to a kinder world.
Would your 16-year-old self be impressed with where you are now?
No, I wanted to be living in a hot country married to Brad Pitt!
You're home, fully fed with your feet up – which comes first Eastenders or emails?
Well it's always emails for me! I am always getting into trouble for being on my phone or laptop too much - Eastenders is just a lot of shouting and emails are much quieter!
Is this a step on the ladder to success or your final destination?
I think we are always on a journey, we might not know our final destination but it's great to have goals and never forget to have fun on the journey to the final destination.
What do you think is the main strengths of the Scottish charity sector?
Flexibility - there is no one size fits all and those who work in the sector need to be as flexible as possible in the way they work, the way they lead and the way they support others to have the biggest impact.
What does your dream retirement look like?
I don't like the word, I believe if you love what you do then you won't ever need to retire, you might do less but never do nothing. My family will I am sure have other ideas! I would like to see more of the world!
Which Brian Cox?
Brian Denis Cox, the actor. He's from Dundee after all and I love The Bourne Identity movies that he is in.
Caroline McKenna is chief executive of Dundee International Women's Centre and founder of Social Good HQ.