For the first time the Scottish Charity Awards has honoured two inspiring Charity Champions
For the first time in 10 years Scotland's Charity Champion award has been won by two inspiring individuals.
Gordon Aikman and Lucy Lintott (pictured) took the coveted gongs at the 2016 Scottish Charity Awards in Edinburgh for their tireless fundraising and campaigning in the fight against motor neurone disease (MND).
With both Gordon and Lucy diagnosed with the MND, the panel of judges took the unprecedented step of awarding them both in recognition of their tireless efforts.
Gordon has become a fixture on the fundraising scene with judges recognising that his work has done much to push MND into the public and political spotlight.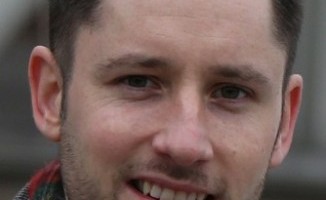 Charity of the Year – Saheliya
Celebrating Communities –Friends of Oban Community Playpark
Charity Champion –Lucy Lintott and Gordon Aikman
Cracking Campaign –Disabled Access Day, Euan's Guide
Exceptional Employee –Chris Martin, Callander Youth Project
Digital Dynamo –Libertie Project Ltd
Perfect Partnership –Macmillan Cancer Support & Glasgow Life
People's Choice – Lucy Lintott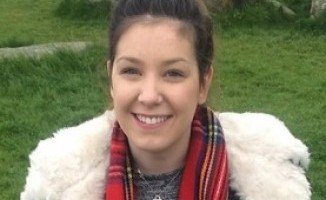 The Edinburgh-based former policy boss at the Better Together campaign was diagnosed with the disease two years ago at the age of 29.
He launched GordonsFightback.com to raise funds for research and lobby for better care for people with MND, raising over £500,000 in the process from 6,000 donations.
He said: "I am absolutely delighted to win this award and would like to dedicate it to everybody who is fighting Motor Neurone Disease.
"I could not have done this alone. I am immensely grateful to everybody who has got behind my campaign, including all of Scotland's party leaders who have united on this issue."
Lucy Lintott was diagnosed with MND in 2013 aged just 19 and she has spent the following years determined to raise cash and awareness of the disease.
She created the website Lucy's Fight and has now raised over £100,000 to help fund research.
The night proved to be a double celebration for the 22-year-old who was also presented with the People's Choice award – voted for by members of the public.
She proved to be the overwhelmingly popular choice, gaining over a quarter of the 17,000 votes.
And in a touching gesture Lucy dedicated the awards to a friend who recently died.
"I would like to say a huge thank you to my family and friends for supporting me through everything, I know it's not been easy," she told TFN.
"Thank you to everyone in my community who's supported me and kept me going. I hope this shows everyone with MND or a terminal illness that you can still have a life after diagnosis. I'd like to dedicate this award to my friend Spirit who passed away recently, I miss you.
Organised by the Scottish Council for Voluntary Organisations (SCVO), the awards saw people and individuals celebrated in eight categories in total.
Charity of the Year went to Saheliya. It promotes mental wellbeing for Black and Ethnic Minority women and recently launched a social enterprise nursery.
Cracking Campaign was won by Euan's Guide for its Disabled Access Day. The charity assesses accessibility and encourages the public to review facilities via a dedicated website.
The Exceptional Employee award went to Chris Martin of Callander Youth Project Trust. Chris has taken what was a small project and made it into a large, sustainable organisation offering vital youth work services as well as a number of social enterprises from its hub in Stirlingshire.
Macmillan Cancer Support and Glasgow Life received the Perfect Partnership crown for improving the cancer journey of patients, carers and family members in Glasgow and has ensured over 20,000 Glaswegians haven't faced cancer alone.
Celebrating communities went to the Friends of Oban Community Playpark, which raised over 40% of funds needed to build its innovative and inclusive outdoor active playpark in the town from the local community.
And the Libertie Project Limited scooped this year's Digital Dynamo. The women-led micro social enterprise is based in Inverness and provides ceramic and craft workshops for offenders and a digital café for homeless individuals.
Shulah Allan, convener of SCVO, said: "I'm in awe of all the finalists and winners. Thanks to their efforts, more people in Scotland are receiving the support they need when they need it and we're all more aware of important issues, and causes, which affect vulnerable people, and us all."