Before beginning their journey home from the Commonwealth Games Team New Zealand stopped by the Glasgow Bike Station and donated 30 of their athletes' bikes
Kind-hearted Kiwi athletes competing at the Commonwealth Games donated 30 bikes to The Glasgow Bike Station as a thank you to the city for being such fantastic hosts.
New Zealand's chef de mission (the team manager) Rob Waddell stopped by the charity, which carries out a range of initiatives to get more people in Glasgow cycling, and gifted the team's entire fleet of bicycles which athletes used to get around the 35-hectare athlete's village.
The team's supplier Avanti also gave the go-ahead to gift all the helmets, locks and maintenance tools as a way of showing their support.
Waddell said the New Zealand Olympic Committee and Avanti selected the Glasgow Bike Station due to the amazing work they do in the local community to promote and encourage mental and physical health through cycling.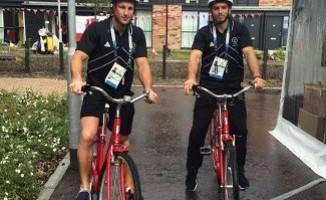 Gregory Chauvet, Glasgow Bike Station managing director, said of the gift: "We were very honoured to receive such a kind donation from the New Zealand Olympic Committee and Avanti Cycles.
"We have had an amazing time taking in the games and this is a fantastic way to end it. The fleet of bikes is a huge boost in helping us deliver our services to the people of Glasgow."
The Bike Station will use some of the bikes to deliver cycle training sessions that encourage the Glasgow public to get around by bike, while those used by the most successful athletes will be sold in a charity auction.
All funds raised will help the Bike Station continue their initiatives, including their bike swap programme, which gives children from disadvantaged backgrounds the opportunity to upgrade their bikes for free.
Chauvet added: "By getting children engaged with cycling from as young an age as possible, regardless of their circumstances, we hope to create a future generation of cyclists. This will be our contribution to the Glasgow 2014 Legacy."
Steve Paraskevas, chief executive of Avanti group praised the Bike Station.
"We'd love to see everyone – from wee adventure-seekers to tea and scone-makers, Sunday coffee cruisers to medal-chasing racers, all sharing in our passion for cycling and letting loose on a bike.
"The process behind our Avanti design technology means every bike in our range is crafted with the rider's purpose and enjoyment in mind, and is built to be taken on a journey. And what better place for this journey to start than with our kids, so we support local bike clubs in an effort to make cycling accessible to all. We believe in the freedom and enjoyment that cycling offers and are honoured to be able to share this with riders across the globe".