Youth organisation expands its successful social enterprise café to energy company SSE's Inverness office.
Youth charity the Calman Trust is to take over and run energy company SSE's staff cafe in Inverness.
The new canteen will provide opportunities for young people to learn and work and the profits will be used to support the wider work of the charity, which includes housing support, training, cookery classes, life skills and work experience.
Calman Trust already runs the the city's successful Café Artysans venture, a social enterprise that supports young people to gain vital training and work experience on the road to sustainable employment.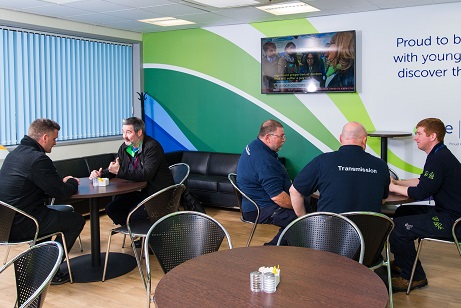 The Café Artysans team is now serving breakfasts, lunches, drinks and snacks to SSE staff at the company's Inverness base, located in Longman Industrial Estate.
Isobel Grigor, chief executive of Calman Trust, said: "We are delighted to be working with SSE on this exciting new venture, and really appreciative of its commitment to supporting a local charity. The Café Artysans team is looking forward to building a strong relationship with the SSE Inverness staff team and providing the kind of food and service that they will enjoy as part of a good working day."
Colin Pirie, head of Highlands and Islands at Scottish Hydro Electric Power Distribution, said: "SSE is rooted in the north of Scotland with hydro electricity providing power for local people for over 70 years. That means we should play a full part in the local community and one of the best ways to do that is supporting the Calman Trust and its superb Café Artysans. SSE employees now have a great canteen here in Inverness and new job opportunities are created for people who need it. It truly is a win win for everyone."
Café Artysans, situated in Strothers Lane in Inverness, opened in 2010. Its menu is tailored to showcase the best Scottish produce and it has a coffee micro-roastery on site. It won the 2011 Highlands and Islands Food & Drink Award for Innovation and the 2013 Highlands and Islands Tourism Award for Best Bar, Cafe or Restaurant.