Fife's Raith Rovers FC had been condemned for signing footballer David Goodwillie this week.
Raith Rovers have confirmed that a footballer with a history of sexual violence will not play for the club following a successful public campaign in recent days. 
David Goodwillie signed for the Fife club on Monday evening, prompting mass backlash from fans, employees and public figures.
Goodwillie, who formerly played for Clyde, was ruled by a judge to have raped a mother-of-one at a party in 2011.
Significant concerns were raised with the club, who initially said they were aware of his background but were primarily concerned with his footballing ability. 
But after pressure from charities, survivors, politicians, as well as internal pressure within the club, Raith's chairman was forced to apologise.
John Sim said: "I firstly want to apologise wholeheartedly to our fans, sponsors, players and the wider Raith Rovers community for the anguish and anger caused over the past few days.
"We got it wrong. In reaching our original decision, we focused far too much on football matters and not enough on what this decision would mean for our club and the community as a whole.
"Over the past couple of days, we listened carefully to the fans who have got in touch and I'm very grateful for their honesty. As chairman, as a board and as a management team, we have all learned a hard but valuable lesson.
"This very unfortunate episode is something that we all bitterly regret and we are now wholly committed to making things right. I can therefore confirm that, following a meeting of the Raith Rovers board, the player will not be selected by Raith Rovers and we will enter into discussions with the player regarding his contractual position.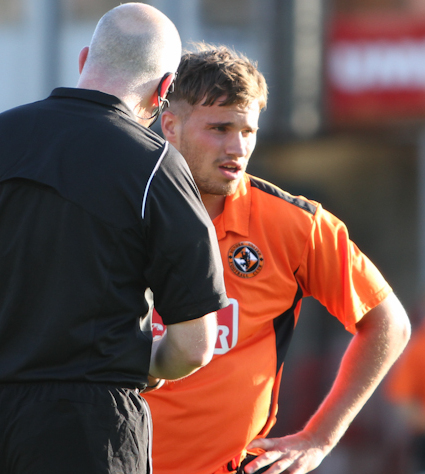 "We share a desire to do what is best for our club and will be doing everything in our power to regain the trust and confidence of the Raith Rovers family."
Mass campaigns and boycotts were organised following the announcement earlier this week, with the club's women's team cutting ties with the club, and several employees leaving the club.
Charities supporting survivors had condemned the club's decision, along with prominent Raith supporter and sponsor Val McDermid, and First Minister Nicola Sturgeon.
In a statement posted online, Rape Crisis Scotland said: "There are no doubt unanswered questions and concerns here but the Scottish public should be proud that they made the terrible decision by Raith Rovers FC untenable.
"We have been so heartened to see the response from fans, sponsors, staff and the women's football team in particular – they have proved the power of speaking out against injustice and showed that in Scotland we want there to be zero tolerance of rape and rapists.
"We applaud the courage and principle of those who did the right thing, even when it came at great personal cost and was clearly very painful. We are also grateful to all who donated to Rape Crisis in protest and solidarity.
"These donations will be shared with the local Rape Crisis centre so that survivors who need support locally, will be able to access this as soon as possible.
"This debacle has shown that there is still such a very long way to go until men's violence against women and girls is truly treated with zero tolerance, but it has also given us hope that in Scotland we hold the values and determination to make this a reality. We know that it has meant so much to so many to see so much solidarity with survivors."