Amjad Shaikh was overwhelmed to discover the impact of People's Postcode Lottery funding in Zanzibar
Working in IT, it's easy to forget how important your organisation is. On a daily basis, I'm usually preoccupied with network and server design but People's Postcode Lottery is an incredible company to be a part of and I now truly understand what good it does.
I was given the opportunity to visit player-supported charity, Book Aid International, which has been awarded an amazing £900,000 since 2014. The charity invited us to Regeza Mwendo Primary School in Zanzibar, which is supported through Book Aid International's School Library in a Box project.
On our first day in Zanzibar, we met the lovely Hannah Watson from Book Aid International and Makame Choum from Zanzibar Library Services and travelled to the school. It was small but packed full of students – around 2,000 and 43 teachers. The building has 23 classrooms but nowhere near enough to accommodate such a huge number of students, so the school works on a shift system and some classes take place outside.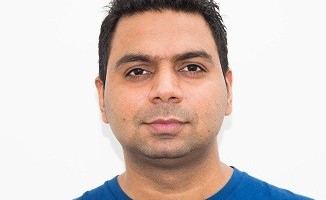 We met with the school principal who talked to us about the challenges students are facing. Many of the students have a poor family background and can't afford books at home. The school has very few books apart from a small number of textbooks. In one of the Grade 5 classrooms, we were greeted enthusiastically by the students. They all stood up and said a poem about Loch Ness since we had travelled from Scotland, which was lovely – we felt so welcomed.
My colleagues and I then distributed books to the students and read with them. I sat next to Reza and I was surprised to see his reading was faster than mine. Reza loves school and really enjoys his time there. We headed out to see one of the classes being taught outside – about 40 students. They again greeted us with enthusiasm and passion which was such an amazing feeling. They sung a poem for us and gave a performance in Swahili.
It was really overwhelming to see how excited the kids got when we started to hand out stickers – such a simple thing put huge smiles on their faces.
Some children didn't have proper uniforms or footwear, there was no air conditioning, canteen or luxury playground but the classrooms were full and the students were very keen to learn. Unlike the UK, none of the schools had gates; the students don't want to leave. They love learning and would stay in school all day if they could.
In the afternoon, we travelled to Zanzibar Library Services' library for the opening of Book Aid International's new children's corner there. The event was inaugurated by government representative Madena Mjuaka and included activities such as poems, dances, songs and kids' competitions. The children were so happy to see the new books and toys in the library. Seeing the smiles on their faces was priceless. Players of People's Postcode Lottery are supporting Book Aid International's book provision programme, helping to send thousands of books to libraries like Zanzibar Library Services in over 13 countries in sub-Saharan Africa and beyond.
The trip was wonderful and really made me appreciate my life in Edinburgh, but also the fantastic organisation that I work for. It was so inspiring to see the difference made by the books players help to send.
Zanzibar is true paradise and I'm so thankful that charities such as Book Aid International are working to give children there the chance to make the most of their education through access to brand new books.
Amjad Shaikh is an IT officer for the People's Postcode Lottery in Edinburgh