Chief executive of Impact Arts Lynne Carr is leaving the crazy diets in her past but planning on playing a role in the sector even after she retires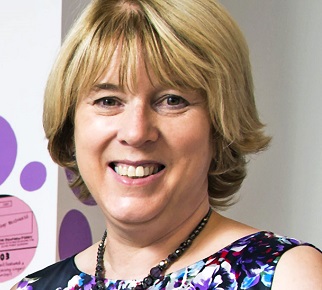 What time do you wake up?
It varies depending on where I have to be – Glasgow, Edinburgh or Irvine. About 7.30am usually.
What is your morning routine?
Get ready for work and put the rabbit out – she is so cute, she puts me in a good mood for the day.
What's the first thing you do when you arrive at work?
Plug in my laptop, chat to the staff in the office and get a cup of tea.
What are you working on just now?
Impact Arts was picked to be part of Big Lottery's Better By Design programme and we are inventing a new business model for ourselves so that takes up a lot of time at the moment. We've developed a theory of change model about how we impact on society to achieve social change. It's been tremendous having the business support we have had from Taylor Haig and The Young Foundation. I would definitely recommend it.
Some charities are big businesses with huge risks and responsibilities and salaries should reflect the expertise required
How many hours do you normally work in a day?
Probably 8/9 hours per day.
Do you have too many meetings?
Not really – we tend to have quick discussions at Impact Arts on a more informal basis and I try to deal with issues by phone or email rather than having lots of meetings.
If you were your boss would you like you?
Definitely I think I'm very likeable.
Is this a step on the rung to success or your final destination?
At my age, you start thinking about your final destination…
Have you got thoughts on what you will do when you retire?
I would really like to continue working in the charity sector even on a voluntary basis.
Should there be a cap on charity chief executive pay?
No – some charities are big businesses with huge risks and responsibilities and salaries should reflect the expertise required. However, salaries should be proportionate to the turnover and level of complexity of the organisation.
Is it better to work for a big charity or a small charity?
I would put Impact Arts in the medium sized charity category and it is just the right mix of closeness to our participants and the impact we make, yet being large enough to have a specialist team of people to deliver.
What advice would you give to your 18-year-old self?
You are thin – you don't need to do those crazy diets (I remember the dried apricot and prune one).
What's your favourite film?
Notting Hill "I'm just a girl standing in front of a boy, asking him to love her" – it's the only quote I know from any film. Richard Curtis is a genius.
Brian Denis Cox or Brian Edward Cox?
Definitely Brian Edward Cox – my husband bought me D:Ream's Things Can Only Get Better a day or two after the birth of our first child – and it has!