Looking for love this Valentine's day? Try volunteering
Last year Ryan applied to be part of the 15,000 strong Commonwealth Games volunteer team. What he didn't expect was that 330 miles away in Truro, his future girlfriend Charlie Tombs was also scrolling through the thousands of Join In opportunities and applying for the same role.
The Join In website is similar to an online dating site but matches users with local sports clubs rather than people. Volunteers can log on and scroll through opportunities and roles that match their skills and location.
Both 29 year-old Ryan and Charlie, 26, didn't go to Join In looking for love, but in the end, that's what they got.
"I volunteered for the Commonwealth Games on the background of the amazing experience I had during the London 2012 Paralympic Games," explains Ryan. "To be involved in such events is exhilarating. From meeting athletes that demonstrate exceptional talent, hard-work and determination to working with new people that I may not have met otherwise."
I definitely feel fortunate to have volunteered as I've met someone who I love to bits and want to spend the rest of my life with
Fast forward to the Commonwealth Games and Charlie and Ryan were both selected to be Clydesiders. They were placed on the same anti-doping team of 25 based in the athletics stadium in Hampden Park.
Ryan explains that it was love at first sight. "There was an immediate attraction on my part when I saw her on the first day. On the second day, we got talking and it turned out that we were both camping in the same site.
"We started hanging out together when we were off shift and hit it off right away."
He recalls his most memorable experience of volunteering at Glasgow: "The best moment in Glasgow was the men's 4x100m relay final. Me and Charlie were literally stood on the finish line watching Usain Bolt in action. I think we'd only known each other for about six days but I remember being so happy that I'd spent it with Charlie – it was such a surreal experience and hopefully something we'll be able to tell our grandchildren about."
Glasgow 2014 came to an end but was just the beginning of Charlie and Ryan's relationship. Ryan shares their plans for the future: "We decided after the Games that we would stay together and the rest, as they say, is history.
"We're already counting down to Rio 2016 – I'm still hoping that could be our honeymoon destination but I'm not quite sure what Charlie thinks about that!
"Charlie finishes her degree this summer and is moving to Manchester so we can live together, and hopefully spend the rest of our lives living out the dream! I definitely feel fortunate to have volunteered as I've met someone who I love to bits and want to spend the rest of my life with."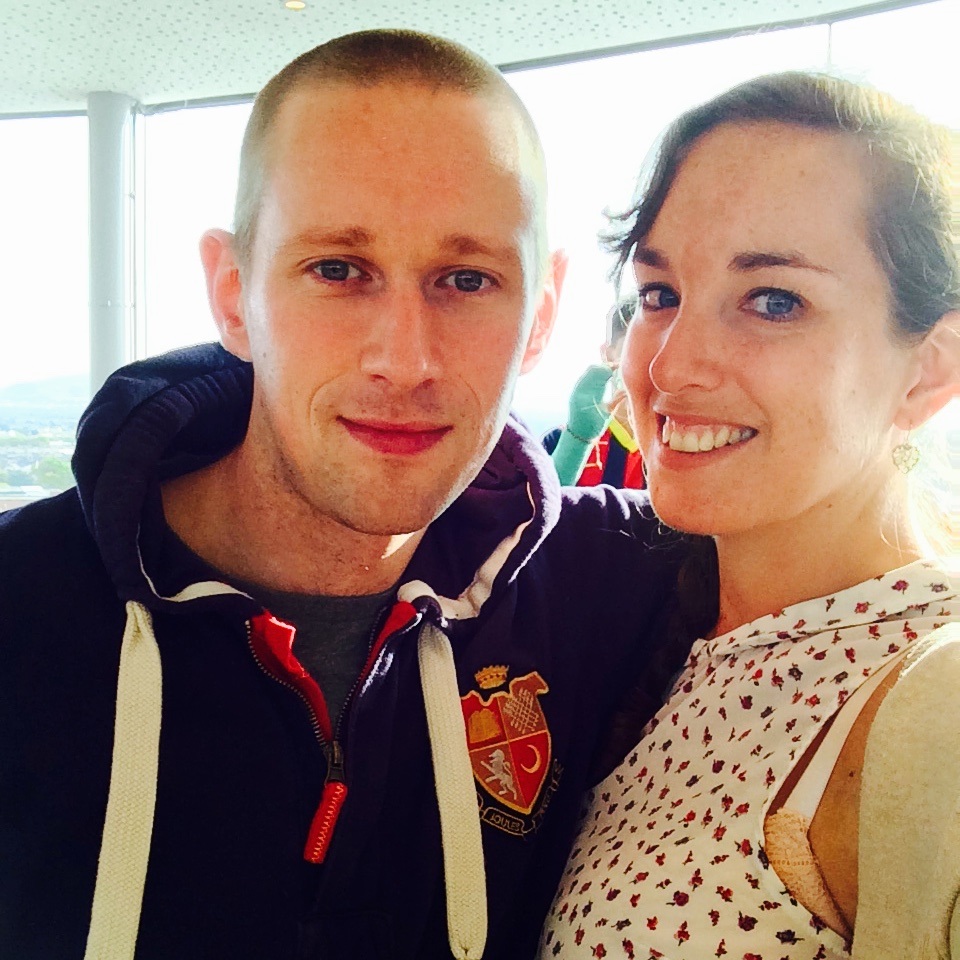 The two love-locked Clydesiders however are not alone. As the country rolls over to the most loving day of the year on Saturday, volunteering is being seen as a great way for singles to get hooked on good causes and embark on romantic partnerships.
Lynn Davies and Ben Hope from Dumfries got hitched last year after volunteering as first aiders for St John's Ambulance.
According to Lynn, the fact they spent so much time together made it obvious they were compatible.
"We ended up being placed together by our volunteer manager because we worked together so well," she said. "Over two years I got to know Ben really well. He's a nurse by profession so care is in his genes. That's what I loved most about him – he never gets stressed and always considers others."
But do volunteers always make good matches? Rennie Davies from Match.com, the online dating agency, says volunteering shows a side to a personality that is caring, sharing and compassionate – three of the most sought after traits in a partner.
"While traits such as sense of humour are easy to put down on a profile, the act of volunteering actually speaks volumes," she says.
"Caring people gravitate towards each other. Volunteers especially show they are willing to commit to a cause, to others, which enables potential suitors to see that they care.
"Actions speak a lot louder than words when it comes to dating. We can say a lot about ourselves but that may not necessarily be an accurate reflection of who we actually are."
While traits such as sense of humour are easy to put down on a profile, the act of volunteering actually speaks volumes
Julia Moody and Seryozha Samoylov met while volunteering in Siem Reap, Cambodia in May 2013. Julia was teaching at a school for former street children and Seryozha was working for a charity that helped rural Cambodians.
"We feel that volunteering abroad allows people to connect with others who have the same values, spirit, and mindset as themselves," says Julia.
"It is easy to meet someone in a bar or on a dating site, but there isn't that instant ability to tell if it's someone you easily connect with.
"Volunteering abroad completely changes that. You meet people who are just like yourself, which makes it easier to find someone you can fall in love with.
"Making instant connections with people becomes 10 times easier than it is over dating sites or in bars because you're not left wondering whether this person has the same drive in life as you do."
"Volunteering abroad allows you to not only meet lifelong friends with the same spirit as you, but possibly someone to fall in love with too."
Getting it wrong to meet Mr Right
Clare Hanlon got volunteer speed dating very wrong. Alongside three single friends she turned up at a café on Glasgow's Southside thinking her luck was in. It was – but not in the way she first thought.
The event – held by Southside Carers – was actually an opportunity for organisations to find volunteers, whereby a representative from each organisation had one minute to impress the potential volunteer.
"I didn't quite grasp the concept," says Clare. "When I did I realised I'd got it all wrong. My friends weren't interested but I thought I may as well give it a go."
Clare ended up volunteering – and three months later ended up meeting her current partner Roy.
"I got it badly wrong but in the end I got it very right," she told TFN. "I ended up volunteering to support people with dementia, taking them out for supervised walks. Roy was the care-home manager and we just hit it off."
And by its very definition she believes the care sector is a pretty good bet to find a caring considerate partner.
"I'm sure you get all sorts but it's not a job for someone who doesn't care about people," she said. "It's what first attracted me to volunteer – knowing people you volunteer alongside share your ethics.
"Roy comes from a family of social workers: his mum, dad and sister. So it's in his genes too."