Find out who all of the winners were here
Scotland's fundraisers had their moment in the spotlight at an awards ceremony marking all of their achievements.
They were honoured last night at the Chartered Institute of Fundraising (CIOF), Scottish Fundraising Awards 2023 ceremony at the DoubleTree by Hilton Glasgow Central.
These national awards celebrate and acknowledge the remarkable achievements of Scotland's fundraisers and took place during the CIOF's annual Scottish Fundraising Conference.
Charities and individuals were honoured in nine highly contested categories. There were returning categories and some new awards were added to reflect the changing landscape of the sector.
Isla Campbell Lupton, co-chair of the Scottish Fundraising Conference and Awards said: "In Scotland charities play a crucial role in delivering essential services that countless people rely on. Without the tireless efforts and unwavering commitment of fundraisers the provision of vital services by charities would not be possible. In an ever evolving and demanding world, Scotland takes pride in its exceptional fundraisers, and so recognising their accomplishments with these respected awards holds immense value, particularly in the face of rising challenges. Huge congratulations to all of those who were shortlisted for the awards and to all the winners."
The winners were:
Fundraiser of the year went to Stephanie Shanks from Sight Scotland.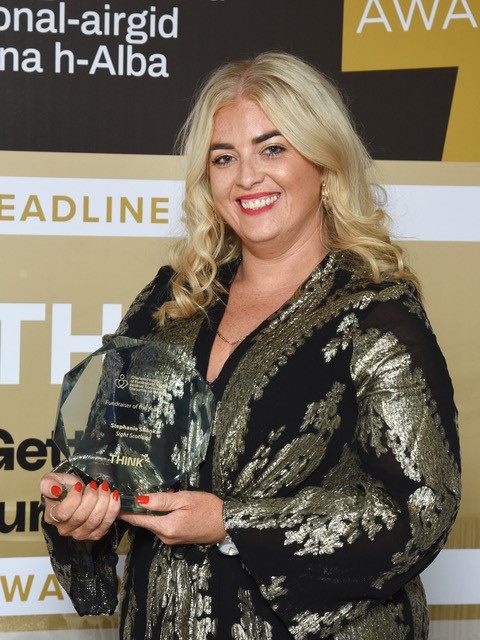 Stephanie Shanks has made an incredible difference to Sight Scotland's fundraising over the last 15 months. From building relationships with services, trusts, and corporates to securing major donors, her contribution has been a great success for the charity.
The Best Legacy campaign was won by Erskine - One Day Campaign.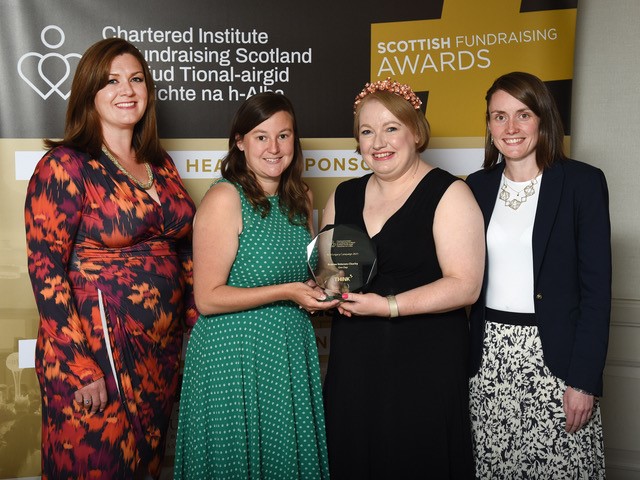 The campaign was a fresh and exciting take on their previous legacy strategy. The video at the centre of the campaign follows a young boy who dreams of being a military hero. But his innocent and optimistic dream suddenly turns into a tough reality experienced by some veterans.
The campaign delivered 96 new legacy prospects outperforming their targets by 120%.
Best Marketing and Communications Campaign went to Mercy Corps Europe for their Ukraine Crisis Response.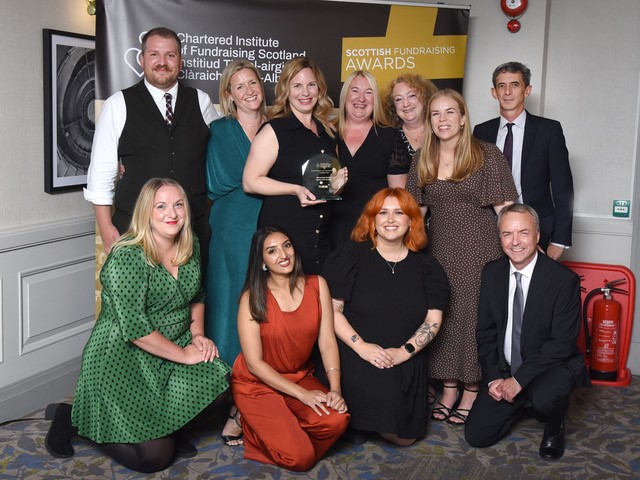 Mercy Corps Europe delivered the most successful fundraising campaign in their history, to support humanitarian response to the escalating crisis in Ukraine. They exceeded their fundraising goal of £500,000 and raised £4,273,281 within six weeks.
Best Individual Giving Campaign was awarded to the CrossReach Winter Appeal 2022 – Jacqueline's story.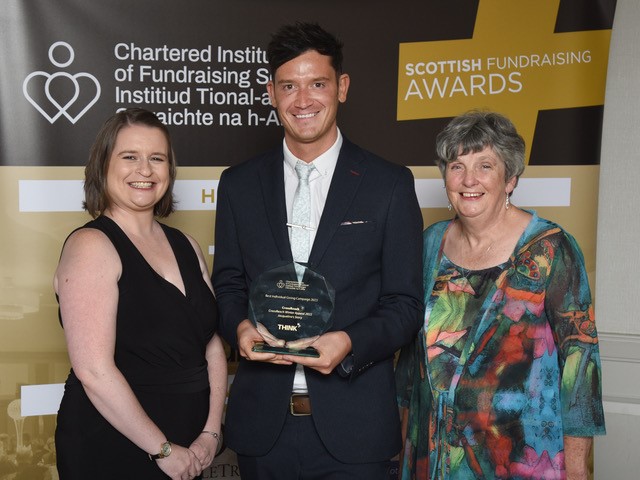 The appeal combined learnings that were gathered over two years of testing by CrossReach. It brought a number of successes, making it their most successful appeal to date, raising nearly 70% more than their past appeals.
The winner of Best use of Event or Community Fundraising Initiative went to My Name'5 Doddie Foundation with Doddie Aid 2023.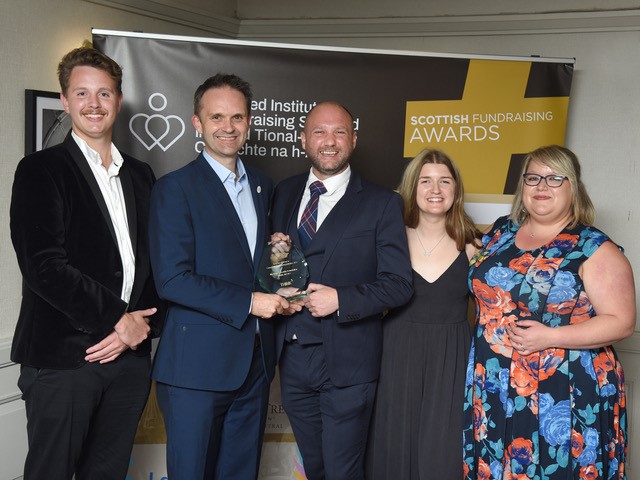 In a moving tribute the charity referenced the sad passing of Doddie Weir last November.
Doddie Aid 2023 was a mass participation exercise event that saw over 36,000 people cover 3.8 million miles, all while raising £2 million for My Name'5 Doddie Foundation to fund MND research.
Best Partner Relationship: Corporate Fundraising went to Age Scotland and SGN.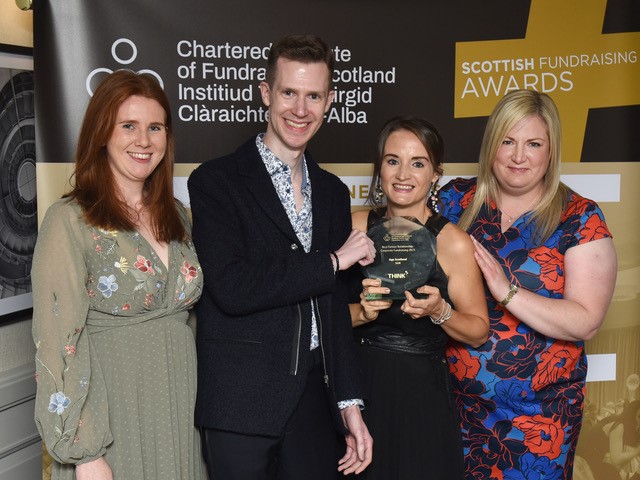 Age Scotland spoke enthusiastically of their partnership with SGN during their acceptance speech.
Their work ensures thousands of older people across Scotland stay safe and warm in their homes.
Through providing a trusted and safe referral process, SGN engineers enabled Age Scotland to reach older people who most need their services.
Best Supporter Experience was won by Cerebral Palsy Scotland.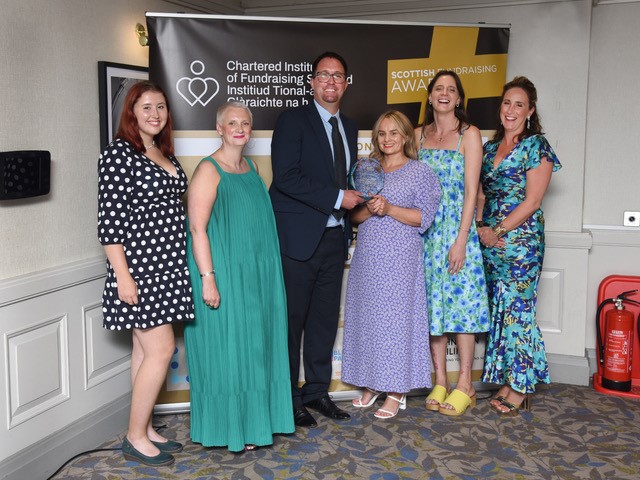 Cerebral Palsy Scotland's small but mighty fundraising team have successfully developed and implemented a thoughtful supporter experience, with limited resources to grow and broaden their supporter base across Scotland.
The Rising Star Award which celebrates upcoming fundraisers in the sector went to Eilidh Murrin from Worldwide Cancer Research.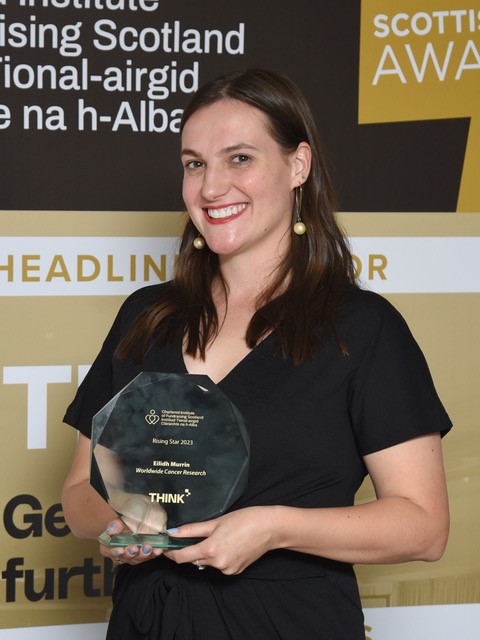 Eilidh has been a key member of the Worldwide Cancer Research Fundraising and Philanthropy team since early 2022, growing their income from c£20,000 in one year to already being at £125,000 in the first quarter.
She has showed great skills and attitude as a Trust fundraiser: constantly learning, developing and challenging herself.
SiMBA picked up The Fundraising Team of the Year Award (also pictured above).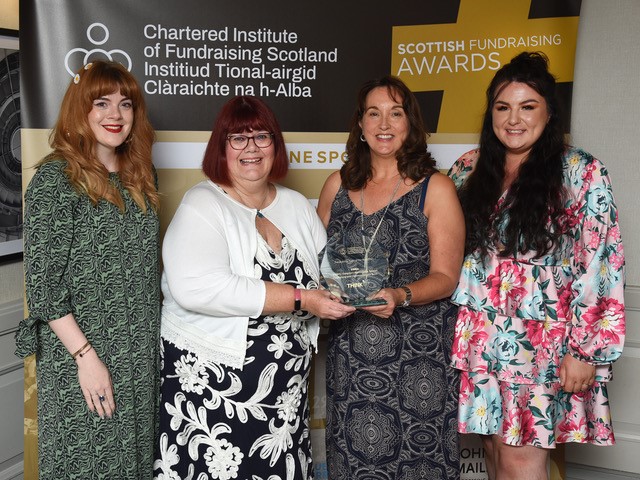 During the last award of the evening we heard how SiMBA's Fundraising and Communications Team achieved outstanding results. The Team faced significant challenges this year and tackled them with positivity, resilience, and proactivity to save the Charity from closure.
Their Urgent Appeal in December 2022 had a target of £220,000 and they raised almost double this amount to £413,000. This hard work has ensured their mission of providing memory boxes to bereaved parents. There wasn't a dry eye in the house after the team accepted the award.